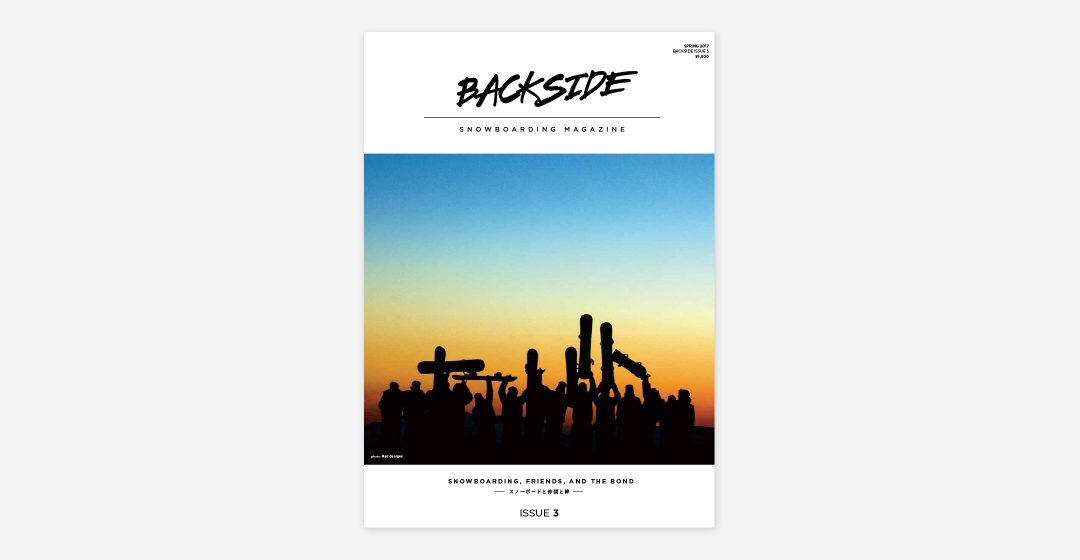 MAGAZINE
ISSUE 3 "SNOWBORDING, FRIENDS, AND THE BOND" ON SALE
2017.06.14
---
On ISSUE 3, "Snowboarding, Friends, and The bond", we will be approaching to the beauty and the greatness of the bonds between friends that would be grown through freestyle snowboarding.

I'm sure you have some friends, regardless of its number, not only through snowboarding, but also through other things.
In the world of freestyle snowboarding, the bonds between the friends must be stronger than other world. Each individual riding style will show his or her personalities. That is the main reason why we get to find the value between our friends. We can just ride, we don't even have to talk.
The friendship between the world class snowboarders: Kazu Kokubo and STONP crew.
The friendship between the two different generations and times space: Yuki Kadono and Keiji Okamoto.
The friendship between the two Olympians: Ayumu Hirano and Taku Hiraoka.
We would like you to start dreaming about the next season as you read through this issue. I'm sure you will be hype on riding with your buddies.



ISSUE 3 "Snowboarding, Friends, and The bond"

Size: 297×210mm
Color: Full Color
Language: English and Japanese
Pages: 148